Governance
The ELA administrative and management structure comprises:
a Management Board which provides strategic orientation and oversees ELA activities;
an Executive Director who is the ELA's legal representative, and is responsible for its day-to-day management;
a Stakeholders Group that facilitates consultation with relevant stakeholders who provide expertise in the areas covered by the Regulation.
Composition of the Management Board
The ELA Management Board is composed of:
one member from each Member State
two members representing the Commission
one independent expert appointed by the European Parliament
four members, representing cross-industry social partner organisations at Union level, equally representing trade union and employer organisations
representatives from third countries which are applying EU law in areas covered by the ELA Regulation participate as observers
A representative of Eurofound, a representative of EU-OSHA, a representative of Cedefop and a representative of the European Training Foundation participate as observers
Key functions of the Management Board
to provide strategic orientations and oversee the Authority's activities
to adopt the work programme, annual budget, consolidated annual activity report and send it to the European Parliament, the Council, European Commission and the European Court of Auditors
to adopt the financial rules, the anti-fraud strategy, rules for the prevention and management of conflicts of interest, communication plans
to set up working groups and adopt their rules of procedure
to appoint the Executive Director and the Accounting Officer
to appoint the members of the Stakeholder Group and their alternates
Management Board meetings and decisions
Executive Director
Responsible for the day-to-day management of ELA
Responsible for the implementation of the tasks assigned to the Authority by the Regulation
Prepares the single programming document and reports to the Management Board on its implementation
As of December 2020, Mr. Cosmin Boiangiu is ELA's Executive Director.
Stakeholder Group
Composition: two representatives of the Commission and ten representatives of Union-level social partners equally representing trade union and employer organisations, including recognised Union sectoral social partners representing sectors that are particularly concerned by labour mobility issues
The members of the Stakeholder Group are designated by their organisations and appointed by the Management Board
The Stakeholder group may submit opinions to the Authority on issues related to the application and enforcement of Union law in the areas covered by the Regulation, the draft consolidated annual activity report, and the draft single programming document
It meets at least twice a year
ELA's organigram
ELA's mission is to ensure that EU rules on labour mobility and social security coordination are enforced in a fair, simple, and effective way. To fulfil such a multi-faceted mandate, the Authority established an organizational structure that fosters an integrated, collaborative, action-oriented approach. The circular nature of ELA's organigram reflects the interconnectedness of the Authority's tasks, and its commitment to delivering quality results in all its operational areas.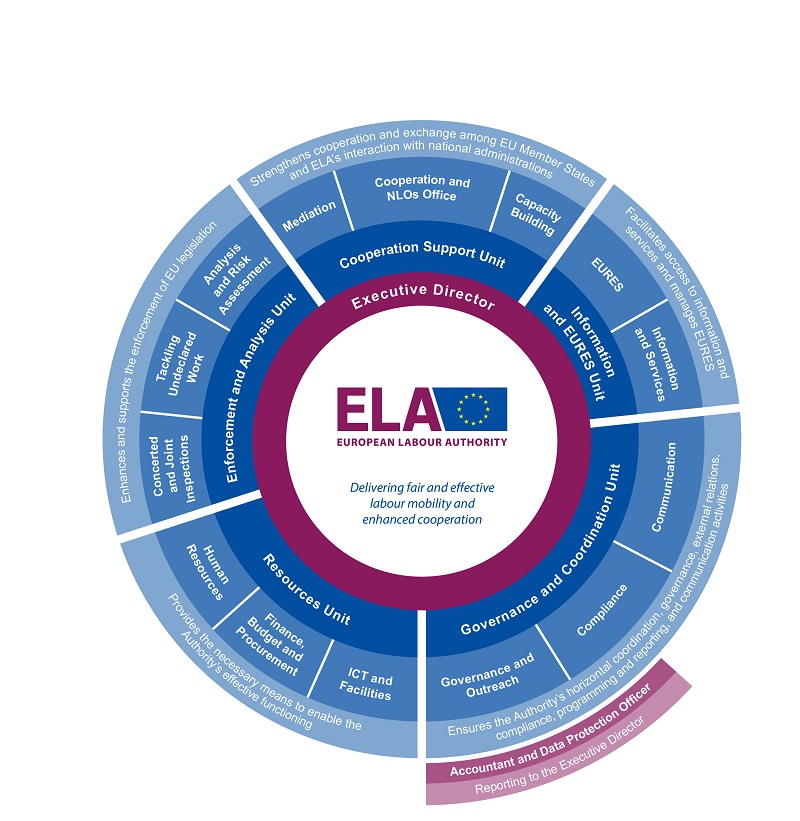 | Head of Unit | Name |
| --- | --- |
| Governance and Coordination | Slavka ELEY |
| Information and EURES | Irene MANDL |
| Cooperation Support | Malcolm SCICLUNA  |
| Enforcement and Analysis | Pedro ASSARES |
| Resources | Jacek SALDAN |